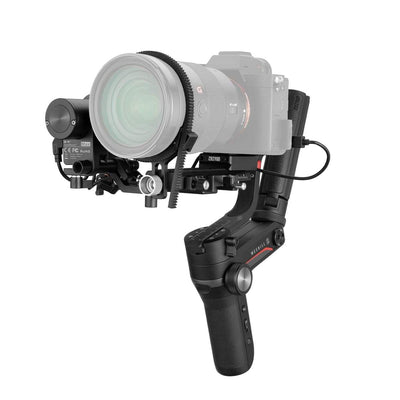 {"id":4583593836619,"title":"ZHIYUN Weebill-S Compact 3-Axis Handheld Gimbal Stabilizer","handle":"zhiyun-weebill-s-compact-3-axis-handheld-gimbal-stabilizer","description":"\u003ch1\u003eZHIYUN Weebill-S Compact 3-Axis Handheld Gimbal Stabilizer for Mirrorless and DSLR Cameras \u0026amp; Lens Combos.\u003c\/h1\u003e\u003cdiv class=\"desc\"\u003e\n\u003cp style=\"text-align: center;\"\u003e\u003cimg src=\"https:\/\/cdn.shopify.com\/s\/files\/1\/2532\/7020\/files\/zhiyun-weebill-s-compact-3-axis-handheld-gimbal-stabilizer-for-mirrorless-DSLR-camera-lens-combos-cover-photo-features.jpg?v=1590652164\" alt=\"ZHIYUN Weebill-S Compact 3-Axis Handheld Gimbal Stabilizer for Mirrorless and DSLR Cameras \u0026amp; Lens Combos features overview\"\u003e\u003c\/p\u003e\n\u003cp style=\"text-align: center;\"\u003e \u003c\/p\u003e\n\u003cdiv style=\"text-align: center;\"\u003e\u003cstrong\u003eWEEBILL-S easily handles mainstream mirrorless and DSLR camera \u0026amp; lens combos. Thanks to its neat lightweight body and a unique Sling mode, WEEBILL-S brings an effortless shooting experience like never before. Featuring an upgraded algorithm and stronger motors, an intelligent ViaTouch 2.0 system as well as an ultra-low latency HD image transmission module, WEEBILL-S pushes the limit of filmmaking even further. Unleash boundless possibilities with WEEBILL-S!\u003c\/strong\u003e\u003c\/div\u003e\n\u003cp\u003e \u003c\/p\u003e\n\u003ch2 style=\"text-align: center;\"\u003e\u003cspan style=\"text-decoration: underline;\"\u003e\u003cstrong\u003e\u003c\/strong\u003e\u003c\/span\u003e\u003c\/h2\u003e\n\u003ch2 style=\"text-align: center;\"\u003e\n\u003cspan style=\"text-decoration: underline;\"\u003e\u003cstrong\u003e\u003c\/strong\u003e\u003c\/span\u003eSupreme Power, Superior Compatibility\u003cbr\u003e\n\u003c\/h2\u003e\n\u003cp style=\"text-align: center;\"\u003eWEEBILL-S comes with new motor units and an upgraded high-precision algorithm. Combos like Sony A7Ⅲ+FE 24-70mm F2.8 and Canon 5D4+EF 24-70mm F2.8 can be perfectly balanced and stabilized on WEEBILL-S for smooth cinematic shots under different scenarios. Simply mount your camera onto WEEBILL-S and WEEBILL-S can auto-tune its power to best adapt to your devices. Be limitless with WEEBILL-S and enjoy creation full-heartedly.\u003c\/p\u003e\n\u003cdiv style=\"text-align: center;\"\u003e\u003cimg src=\"https:\/\/cdn.shopify.com\/s\/files\/1\/2532\/7020\/files\/zhiyun-weebill-s-compact-3-axis-handheld-gimbal-stabilizer-for-mirrorless-DSLR-camera-lens-combos-high-compatibility.jpg?v=1590652430\" alt=\"ZHIYUN Weebill-S Compact 3-Axis Handheld Gimbal Stabilizer for Mirrorless and DSLR Cameras \u0026amp; Lens Combos high compatibility\" style=\"float: none;\"\u003e\u003c\/div\u003e\n\u003cp style=\"text-align: center;\"\u003e \u003c\/p\u003e\n\u003ch2 style=\"text-align: center;\"\u003eResponsive and Flexible than EVER\u003cbr\u003e\n\u003c\/h2\u003e\n\u003cp style=\"text-align: center;\"\u003eThe upgraded 8th Instune algorithm provides high responsiveness and eliminates jittery in fast movement in any environment. Not only that, but you can also quickly adjust the speed and various parameters of each axis directly through the dial on the handle itself, giving you responsive and flexible control than ever!\u003cbr\u003e\u003c\/p\u003e\n\u003cp style=\"text-align: center;\"\u003e \u003c\/p\u003e\n\u003cp style=\"text-align: center;\"\u003e \u003c\/p\u003e\n\u003ch2 style=\"text-align: center;\"\u003eCompact as a Piece of A4 Paper\u003cbr\u003e\n\u003c\/h2\u003e\n\u003cp style=\"text-align: center;\"\u003eThe unique structure and minimum design of WEEBILL-S make it super compact as a piece of A4 paper. With the ergonomically designed Sling mode, WEEBILL-S provides an effortless shooting experience for anyone.\u003cbr\u003e\u003c\/p\u003e\n\u003cdiv style=\"text-align: center;\"\u003e\u003cimg src=\"https:\/\/cdn.shopify.com\/s\/files\/1\/2532\/7020\/files\/zhiyun-weebill-s-compact-3-axis-handheld-gimbal-stabilizer-for-mirrorless-DSLR-camera-lens-combos-compact.jpg?v=1590652590\" alt=\"ZHIYUN Weebill-S Compact 3-Axis Handheld Gimbal Stabilizer for Mirrorless and DSLR Cameras \u0026amp; Lens Combos compact design \" style=\"float: none;\"\u003e\u003c\/div\u003e\n\u003cp style=\"text-align: center;\"\u003e \u003c\/p\u003e\n\u003ch2 style=\"text-align: center;\"\u003eUpgraded Image Transmission Module:\u003cbr\u003e\n\u003c\/h2\u003e\n\u003cp style=\"text-align: center;\"\u003eThe all-new TransMount Image Transmission Module (accessory), in its compact size, can be directly mounted under the quick release plate neatly. With 1080P 30fps highly synchronised transmission (100-meter distance*) featuring LUT, Pseudocolor, Focus peaking, Zebra Stripes and etc, professional monitoring and live streaming can be easily achieved on a gimbal. (Because of the Wi-Fi frequency band differences in Japan and Israel, the image transmission performance and distance in these areas may be affected when using the smartphone as a monitor.)\u003cbr\u003e\u003c\/p\u003e\n\u003cdiv style=\"text-align: center;\"\u003e\u003cimg src=\"https:\/\/cdn.shopify.com\/s\/files\/1\/2532\/7020\/files\/zhiyun-weebill-s-compact-3-axis-handheld-gimbal-stabilizer-for-mirrorless-DSLR-camera-lens-combos-image-transmission.jpg?v=1590653455\" alt=\"ZHIYUN Weebill-S Compact 3-Axis Handheld Gimbal Stabilizer for Mirrorless and DSLR Cameras \u0026amp; Lens Combos transmission\" style=\"float: none;\"\u003e\u003c\/div\u003e\n\u003cdiv style=\"text-align: center;\"\u003e\u003cimg src=\"https:\/\/cdn.shopify.com\/s\/files\/1\/2532\/7020\/files\/zhiyun-weebill-s-compact-3-axis-handheld-gimbal-stabilizer-for-mirrorless-DSLR-camera-lens-combos-trans-mount-image-transmission.jpg?v=1590653497\" alt=\"ZHIYUN Weebill-S Compact 3-Axis Handheld Gimbal Stabilizer for Mirrorless and DSLR Cameras \u0026amp; Lens Combos transmission feature details\" style=\"float: none;\"\u003e\u003c\/div\u003e\n\u003ch2 style=\"text-align: center;\"\u003e\u003c\/h2\u003e\n\u003ch2 style=\"text-align: center;\"\u003eViaTouch 2.0: Your Finger-Touch Vision World\u003cbr\u003e\n\u003c\/h2\u003e\n\u003cp style=\"text-align: center;\"\u003e\u003cspan style=\"text-decoration: underline;\"\u003eViatouch: you can turn your phone screen into a professional monitor and multi-functional remote controller.\u003c\/span\u003e\u003cbr\u003e\u003c\/p\u003e\n\u003cp style=\"text-align: center;\"\u003e \u003c\/p\u003e\n\u003ch3 style=\"text-align: center;\"\u003e\u003cstrong\u003e\u003cspan style=\"text-decoration: underline;\"\u003eViaTouch 2.0 Evolved Intelligence\u003cbr\u003e\u003c\/span\u003e\u003c\/strong\u003e\u003c\/h3\u003e\n\u003cp style=\"text-align: center;\"\u003eBesides HD image transmitting, ViaTouch 2.0 seamlessly connects your smartphone, camera and gimbal. Various gimbal and camera settings can be adjusted in real-time, like Follow Speed, Aperture, ISO, Shutter Speed and etc. Real-time monitoring and intuitive control are just at fingertips.\u003c\/p\u003e\n\u003cp style=\"text-align: center;\"\u003e\u003cstrong\u003e*Requires TransMount Image Trans\u003c\/strong\u003e\u003c\/p\u003e\n\u003cdiv style=\"text-align: center;\"\u003e\u003cimg src=\"https:\/\/cdn.shopify.com\/s\/files\/1\/2532\/7020\/files\/zhiyun-weebill-s-compact-3-axis-handheld-gimbal-stabilizer-for-mirrorless-DSLR-camera-lens-combos-connect-with-phone-monitor.jpg?v=1590653561\" alt=\"ZHIYUN Weebill-S Compact 3-Axis Handheld Gimbal Stabilizer for Mirrorless and DSLR Cameras \u0026amp; Lens Combos viatouch 2.0 connect with mobile phone camera and gimbal\" style=\"float: none;\"\u003e\u003c\/div\u003e\n\u003cp style=\"text-align: center;\"\u003e \u003c\/p\u003e\n\u003ch3 style=\"text-align: center;\"\u003e\u003cstrong\u003e\u003cspan style=\"text-decoration: underline;\"\u003eSmartFollow 2.0\u003cbr\u003e\u003c\/span\u003e\u003c\/strong\u003e\u003c\/h3\u003e\n\u003cp style=\"text-align: center;\"\u003eSmartFollow 2.0 now allows precise object tracking with no need of balancing your phone onto a camera or gimbal. Simply box the wanted object via phone screen and let the gimbal and camera do the rest. SmartFollow 2.0 empowers you to work with super flexibility either you work alone or in a team.\u003c\/p\u003e\n\u003cp style=\"text-align: center;\"\u003e\u003cbr\u003e\u003cstrong\u003e*Requires TransMount Image Transmission Module.\u003c\/strong\u003e\u003c\/p\u003e\n\u003cdiv style=\"text-align: center;\"\u003e\u003cimg src=\"https:\/\/cdn.shopify.com\/s\/files\/1\/2532\/7020\/files\/zhiyun-weebill-s-compact-3-axis-handheld-gimbal-stabilizer-for-mirrorless-DSLR-camera-lens-combos-smart-follow.jpg?v=1590653592\" alt=\"ZHIYUN Weebill-S Compact 3-Axis Handheld Gimbal Stabilizer for Mirrorless and DSLR Cameras \u0026amp; Lens Combos smart follow \" style=\"float: none;\"\u003e\u003c\/div\u003e\n\u003cp style=\"text-align: center;\"\u003e \u003c\/p\u003e\n\u003ch3 style=\"text-align: center;\"\u003e\n\u003cspan style=\"text-decoration: underline;\"\u003eSync Motion\u003c\/span\u003e\u003cbr\u003e\n\u003c\/h3\u003e\n\u003cp style=\"text-align: center;\"\u003eWEEBILL-S introduces Sync Motion, a motion sensor control system based on APP. When coupled with image transmission module, it allows real-time monitoring and synchronous motion control at the same time, giving you an immersive FPV control experience like never before.\u003c\/p\u003e\n\u003cp style=\"text-align: center;\"\u003e\u003cstrong\u003e*Monitoring function requires TransMount Image Transmission Module.\u003c\/strong\u003e\u003c\/p\u003e\n\u003cdiv style=\"text-align: center;\"\u003e\u003cimg src=\"https:\/\/cdn.shopify.com\/s\/files\/1\/2532\/7020\/files\/zhiyun-weebill-s-compact-3-axis-handheld-gimbal-stabilizer-for-mirrorless-DSLR-camera-lens-combos-sync-motion-with-three-devices.jpg?v=1590653653\" alt=\"ZHIYUN Weebill-S Compact 3-Axis Handheld Gimbal Stabilizer for Mirrorless and DSLR Cameras \u0026amp; Lens Combos sync motion \" style=\"float: none;\"\u003e\u003c\/div\u003e\n\u003cp style=\"text-align: center;\"\u003e \u003c\/p\u003e\n\u003ch2 class=\"total sumTotal8\" style=\"text-align: center;\"\u003eModular Design\u003c\/h2\u003e\n\u003cdiv style=\"text-align: center;\"\u003eWith a full set of TransMount Image Transmission System (Transmitter+Receiver), WEEBILL-S provides professional monitor solutions for every filmmaker or even a camera crew, achieving highly consistent teamwork and effective workflow at ease.\u003c\/div\u003e\n\u003cp\u003e \u003c\/p\u003e\n\u003ch3 style=\"text-align: center;\"\u003e\u003cspan style=\"text-decoration: underline;\"\u003eTransMount Image Transmission Receiver\u003c\/span\u003e\u003c\/h3\u003e\n\u003cp style=\"text-align: center;\"\u003eWhen mounted with image transmission receiver and transmitter, up to 3 devices can be connected to your stabilizer, including not only smartphones and iPad, but also professional monitors. From now on, a professional camera crew is on your hands.\u003c\/p\u003e\n\u003cp style=\"text-align: center;\"\u003e\u003cstrong\u003e*Accessory sold separately.\u003c\/strong\u003e\u003c\/p\u003e\n\u003cdiv style=\"text-align: center;\"\u003e\u003cimg src=\"https:\/\/cdn.shopify.com\/s\/files\/1\/2532\/7020\/files\/zhiyun-weebill-s-compact-3-axis-handheld-gimbal-stabilizer-for-mirrorless-DSLR-camera-lens-combos-image-transmission-receiver.jpg?v=1590653690\" alt=\"ZHIYUN Weebill-S Compact 3-Axis Handheld Gimbal Stabilizer for Mirrorless and DSLR Cameras \u0026amp; Lens Combos image transmission receiver\" style=\"float: none;\"\u003e\u003c\/div\u003e\n\u003cp style=\"text-align: center;\"\u003e \u003c\/p\u003e\n\u003ch3 style=\"text-align: center;\"\u003e\u003cspan style=\"text-decoration: underline;\"\u003eTransMount Wireless Remote Controller\u003c\/span\u003e\u003c\/h3\u003e\n\u003cp style=\"text-align: center;\"\u003eThe all-new remote controller featuring a built-in motion sensor module allows ultra-high-precision motion-sensing control and parameter settings in real-time.\u003c\/p\u003e\n\u003cp style=\"text-align: center;\"\u003e\u003cstrong\u003e*Accessory sold separately. The controller cannot work independently. It works only with WEEBILL-S and TransMount Image Transmission Module (Transmitter and Receiver)\u003c\/strong\u003e\u003c\/p\u003e\n\u003cdiv style=\"text-align: center;\"\u003e\u003cimg src=\"https:\/\/cdn.shopify.com\/s\/files\/1\/2532\/7020\/files\/zhiyun-weebill-s-compact-3-axis-handheld-gimbal-stabilizer-for-mirrorless-DSLR-camera-lens-combos-wireless-remote-controller-motion-sensor.jpg?v=1590653734\" alt=\"ZHIYUN Weebill-S Compact 3-Axis Handheld Gimbal Stabilizer for Mirrorless and DSLR Cameras \u0026amp; Lens Combos wireless remote controller \" style=\"float: none;\"\u003e\u003c\/div\u003e\n\u003cp style=\"text-align: center;\"\u003e \u003c\/p\u003e\n\u003ch2 style=\"text-align: center;\"\u003eLiveStream Anywhere\u003cbr\u003e\n\u003c\/h2\u003e\n\u003cp style=\"text-align: center;\"\u003eSupporting image transmission connection on three devices at a time, whether with your smartphones, tablets or general monitors, TransMount Image Transmission Package offers a cost-saving and flexible solution for live streaming anytime anywhere.\u003cbr\u003e\u003c\/p\u003e\n\u003cdiv style=\"text-align: center;\"\u003e\u003cimg src=\"https:\/\/cdn.shopify.com\/s\/files\/1\/2532\/7020\/files\/zhiyun-weebill-s-compact-3-axis-handheld-gimbal-stabilizer-for-mirrorless-DSLR-camera-lens-combos-livestream-anywhere.jpg?v=1590653748\" alt=\"ZHIYUN Weebill-S Compact 3-Axis Handheld Gimbal Stabilizer for Mirrorless and DSLR Cameras \u0026amp; Lens Combos live stream anywhere\" style=\"float: none;\"\u003e\u003c\/div\u003e\n\u003cp style=\"text-align: center;\"\u003e \u003c\/p\u003e\n\u003ch2 style=\"text-align: center;\"\u003eInstant Gimbal Settings\u003c\/h2\u003e\n\u003cp style=\"text-align: center;\"\u003eThe all-inclusive intuitive OLED display can show various adjustable parameters like motor strength, follow speed, smoothness, deadband, key customization and etc, all of which can be directly controlled via the handle without having to enter the App.\u003cbr\u003e\u003c\/p\u003e\n\u003cdiv style=\"text-align: center;\"\u003e\u003cimg src=\"https:\/\/cdn.shopify.com\/s\/files\/1\/2532\/7020\/files\/zhiyun-weebill-s-compact-3-axis-handheld-gimbal-stabilizer-for-mirrorless-DSLR-camera-lens-combos-instant-gimbal-settings.jpg?v=1590653778\" alt=\"ZHIYUN Weebill-S Compact 3-Axis Handheld Gimbal Stabilizer for Mirrorless and DSLR Cameras \u0026amp; Lens Combos instant gimbal settings\" style=\"float: none;\"\u003e\u003c\/div\u003e\n\u003cp style=\"text-align: center;\"\u003e \u003c\/p\u003e\n\u003ch2 style=\"text-align: center;\"\u003eMore Ways to Create\u003cbr\u003e\n\u003c\/h2\u003e\n\u003cp style=\"text-align: center;\"\u003eWith six creative shooting modes, WEEBILL-S provides endless possibilities for your shooting.\u003cbr\u003e\u003c\/p\u003e\n\u003cdiv style=\"text-align: center;\"\u003e\u003cimg src=\"https:\/\/cdn.shopify.com\/s\/files\/1\/2532\/7020\/files\/zhiyun-weebill-s-compact-3-axis-handheld-gimbal-stabilizer-for-mirrorless-DSLR-camera-lens-combos-creative-shooting-modes.jpg?v=1590653948\" alt=\"ZHIYUN Weebill-S Compact 3-Axis Handheld Gimbal Stabilizer for Mirrorless and DSLR Cameras \u0026amp; Lens Combos various shootings models\" style=\"float: none;\"\u003e\u003c\/div\u003e\n\u003cp style=\"text-align: center;\"\u003e \u003c\/p\u003e\n\u003ch2 style=\"text-align: center;\"\u003eTwo-in-One Quick Release System\u003c\/h2\u003e\n\u003cp style=\"text-align: center;\"\u003eWEEBILL-S adopts the popular two-in-one quick release plates (Manfrotto\/Arca-Swiss), allowing easy setup and fast transition between equipment without re-balancing.\u003cbr\u003e\u003c\/p\u003e\n\u003cdiv style=\"text-align: center;\"\u003e\u003cimg src=\"https:\/\/cdn.shopify.com\/s\/files\/1\/2532\/7020\/files\/zhiyun-weebill-s-compact-3-axis-handheld-gimbal-stabilizer-for-mirrorless-DSLR-camera-lens-combos-quick-release.jpg?v=1590653987\" alt=\"ZHIYUN Weebill-S Compact 3-Axis Handheld Gimbal Stabilizer for Mirrorless and DSLR Cameras \u0026amp; Lens Combos quick release system\" style=\"float: none;\"\u003e\u003c\/div\u003e\n\u003cp style=\"text-align: center;\"\u003e \u003c\/p\u003e\n\u003ch2 style=\"text-align: center;\"\u003eNew Axis Lock Design, Easy Setup\u003c\/h2\u003e\n\u003cp style=\"text-align: center;\"\u003eNewly-designed lock switch on each axis makes balancing and storage much easier and convenient.\u003cbr\u003e\u003c\/p\u003e\n\u003cdiv style=\"text-align: center;\"\u003e\u003cimg src=\"https:\/\/cdn.shopify.com\/s\/files\/1\/2532\/7020\/files\/zhiyun-weebill-s-compact-3-axis-handheld-gimbal-stabilizer-for-mirrorless-DSLR-camera-lens-combos-set-up-easy.jpg?v=1590654008\" alt=\"ZHIYUN Weebill-S Compact 3-Axis Handheld Gimbal Stabilizer for Mirrorless and DSLR Cameras \u0026amp; Lens Combos axis lock design \" style=\"float: none;\"\u003e\u003c\/div\u003e\n\u003cp style=\"text-align: center;\"\u003e \u003c\/p\u003e\n\u003ch2 style=\"text-align: center;\"\u003eStay Focused, All the Way\u003c\/h2\u003e\n\u003cp style=\"text-align: center;\"\u003eWEEBILL-S supports both electronic focus control and mechanical focus\/zoom control through a handy control wheel on its body. Whatever camera \u0026amp; lens combo you're using, you can always pull focus or zoom precisely via the included cable and a servo motor.\u003c\/p\u003e\n\u003cp style=\"text-align: center;\"\u003e(The control wheel controls the servo focus\/zoom motor by default. For electronic focus control, please dial into the Menu to select. For more information, please refer to the User Guide.)\u003c\/p\u003e\n\u003cdiv style=\"text-align: center;\"\u003e\u003cimg src=\"https:\/\/cdn.shopify.com\/s\/files\/1\/2532\/7020\/files\/zhiyun-weebill-s-compact-3-axis-handheld-gimbal-stabilizer-for-mirrorless-DSLR-camera-lens-combos-always-on-focus.jpg?v=1590654037\" alt=\"ZHIYUN Weebill-S Compact 3-Axis Handheld Gimbal Stabilizer for Mirrorless and DSLR Cameras \u0026amp; Lens Combos always on focus \" style=\"float: none;\"\u003e\u003c\/div\u003e\n\u003cp style=\"text-align: center;\"\u003e \u003c\/p\u003e\n\u003ch2 style=\"text-align: center;\"\u003ePower Your Shoot All Day\u003cbr\u003e\n\u003c\/h2\u003e\n\u003cp style=\"text-align: center;\"\u003eThe interchangeable batteries with 14-hour runtime will keep you powered up all day long. WEEBILL-S can also keep your camera charged in real-time, ensuring a reliable and effective shooting for long-time task.\u003c\/p\u003e\n\u003cdiv style=\"text-align: center;\"\u003e\u003cimg src=\"https:\/\/cdn.shopify.com\/s\/files\/1\/2532\/7020\/files\/zhiyun-weebill-s-compact-3-axis-handheld-gimbal-stabilizer-for-mirrorless-DSLR-camera-lens-combos-large-battery-capacity_525833f8-ad1d-4089-a1c5-9f679414e801.jpg?v=1590654236\" alt=\"ZHIYUN Weebill-S Compact 3-Axis Handheld Gimbal Stabilizer for Mirrorless and DSLR Cameras \u0026amp; Lens Combos power your shoot all day \" style=\"float: none;\"\u003e\u003c\/div\u003e\n\u003cp style=\"text-align: center;\"\u003e \u003c\/p\u003e\n\u003ch2 style=\"text-align: center;\"\u003ePlay like a Pro\u003cbr\u003e\n\u003c\/h2\u003e\n\u003cp style=\"text-align: center;\"\u003eMore advanced cinematic features such as Panorama, Timelapse, Motionlapse, and Long Exposure Timelapse can be easily achieved within ZY Play.\u003cbr\u003e\u003c\/p\u003e\n\u003cdiv style=\"text-align: center;\"\u003e\u003cimg src=\"https:\/\/cdn.shopify.com\/s\/files\/1\/2532\/7020\/files\/zhiyun-weebill-s-compact-3-axis-handheld-gimbal-stabilizer-for-mirrorless-DSLR-camera-lens-combos-cinematic_features.jpg?v=1590654348\" alt=\"ZHIYUN Weebill-S Compact 3-Axis Handheld Gimbal Stabilizer for Mirrorless and DSLR Cameras \u0026amp; Lens Combos cinematic features\" style=\"float: none;\"\u003e\u003c\/div\u003e\n\u003cp style=\"text-align: center;\"\u003e \u003c\/p\u003e\n\u003ch2 style=\"text-align: center;\"\u003eEcosystem of Accessories\u003cbr\u003e\n\u003c\/h2\u003e\n\u003cp style=\"text-align: center;\"\u003eWith three 1\/4 inch thread holes, WEEBILL-S offers great compatibility to multiple accessories such as TransMount quick setup kits, monopod, servo zoom\/focus motors, image transmission system, and more. Explore unlimited possibilities with WEEBILL-S!\u003c\/p\u003e\n\u003cp style=\"text-align: center;\"\u003e \u003c\/p\u003e\n\u003cdiv style=\"text-align: center;\"\u003e\u003cimg src=\"https:\/\/cdn.shopify.com\/s\/files\/1\/2532\/7020\/files\/zhiyun-weebill-s-compact-3-axis-handheld-gimbal-stabilizer-for-mirrorless-DSLR-camera-lens-combos-application.jpg?v=1590654394\" alt=\"ZHIYUN Weebill-S Compact 3-Axis Handheld Gimbal Stabilizer for Mirrorless and DSLR Cameras \u0026amp; Lens Combos accessories \" style=\"float: none;\"\u003e\u003c\/div\u003e\n\u003ch2 style=\"text-align: center;\"\u003e\u003cspan style=\"text-decoration: underline;\"\u003e\u003c\/span\u003e\u003c\/h2\u003e\n\u003ch2\u003e    \u003c\/h2\u003e\n\u003ch2\u003eSpecifications:\u003c\/h2\u003e\n\u003cp\u003e \u003c\/p\u003e\n\u003cp\u003e\u003cspan style=\"text-decoration: underline;\"\u003e\u003cstrong\u003eBattery:\u003c\/strong\u003e\u003c\/span\u003e\u003cbr\u003e\u003c\/p\u003e\n\u003cp\u003eOperation Voltage: Max: 8.4v, Min: 6.8v\u003c\/p\u003e\n\u003cp\u003eOperation Current: Max: 3000mA, Min: 250mA\u003c\/p\u003e\n\u003cp\u003eOutput: 5V, 1A\u003c\/p\u003e\n\u003cp\u003eBattery Runtime: Max: 14h, Min: 12h\u003c\/p\u003e\n\u003cp\u003eCharging Time: Standard: 2.5h\u003c\/p\u003e\n\u003cp\u003e \u003c\/p\u003e\n\u003cp\u003e\u003cspan style=\"text-decoration: underline;\"\u003e\u003cstrong\u003eStabilizer:\u003c\/strong\u003e\u003c\/span\u003e\u003c\/p\u003e\n\u003cp\u003eFollowing Deviation in Static State: Max: ± 0.04°, Min: ± 0.01°\u003c\/p\u003e\n\u003cp\u003eFollowing Deviation in Motion State:  Max: ± 0.3°, Standard: ± 0.1°, Min: ± 0.05°\u003c\/p\u003e\n\u003cp\u003eTilt Mechanical Range: 314°\u003c\/p\u003e\n\u003cp\u003eRoll Mechanical Range: 314°\u003c\/p\u003e\n\u003cp\u003ePan Mechanical Range: 360°\u003c\/p\u003e\n\u003cp\u003e \u003c\/p\u003e\n\u003cp\u003e\u003cspan style=\"text-decoration: underline;\"\u003e\u003cstrong\u003ePacking Specifications:\u003c\/strong\u003e\u003c\/span\u003e\u003c\/p\u003e\n\u003cp\u003eProduct Dimension (W*D*H): 190*140*298mm\u003c\/p\u003e\n\u003cp\u003ePackage Size (L*W*H): 355*275*104mm\u003c\/p\u003e\n\u003cp\u003eCarton Size (Dedicated) (L*W*H): 574*380*316mm\u003c\/p\u003e\n\u003cp\u003eNet Weight: ~895g\/unit\u003c\/p\u003e\n\u003cp\u003eGross Weight (including package): 1785g\/unit\u003c\/p\u003e\n\u003cp\u003ePacking Weight: 10kg\/carton\u003c\/p\u003e\n\u003c\/div\u003e","published_at":"2020-05-28T04:44:33-04:00","created_at":"2020-05-28T04:47:41-04:00","vendor":"ZHIYUN","type":"Streaming Gadgets","tags":["3-Axis","camera","Camera Stabilizer","DSLR","mirrorless camera","Stabilizer","Video recording","ZHIYUN","ZHIYUN Stabilizer"],"price":32999,"price_min":32999,"price_max":32999,"available":true,"price_varies":false,"compare_at_price":null,"compare_at_price_min":0,"compare_at_price_max":0,"compare_at_price_varies":false,"variants":[{"id":32342941368395,"title":"Default Title","option1":"Default Title","option2":null,"option3":null,"sku":"","requires_shipping":true,"taxable":true,"featured_image":null,"available":true,"name":"ZHIYUN Weebill-S Compact 3-Axis Handheld Gimbal Stabilizer","public_title":null,"options":["Default Title"],"price":32999,"weight":2000,"compare_at_price":null,"inventory_management":null,"barcode":"","requires_selling_plan":false,"selling_plan_allocations":[]}],"images":["\/\/www.stream-sourcing.com\/cdn\/shop\/products\/zhiyun-weebill-s-compact-3-axis-handheld-gimbal-stabilizer-for-mirrorless-DSLR-camera-lens-combos-overview-front.jpg?v=1590655664","\/\/www.stream-sourcing.com\/cdn\/shop\/products\/zhiyun-weebill-s-compact-3-axis-handheld-gimbal-stabilizer-for-mirrorless-DSLR-camera-lens-combos-overview-right.jpg?v=1590655664","\/\/www.stream-sourcing.com\/cdn\/shop\/products\/zhiyun-weebill-s-compact-3-axis-handheld-gimbal-stabilizer-for-mirrorless-DSLR-camera-lens-combos-overview-with-mobile-phone.jpg?v=1590655664","\/\/www.stream-sourcing.com\/cdn\/shop\/products\/zhiyun-weebill-s-compact-3-axis-handheld-gimbal-stabilizer-for-mirrorless-DSLR-camera-lens-combos-front-with-tripod.jpg?v=1590655664","\/\/www.stream-sourcing.com\/cdn\/shop\/products\/zhiyun-weebill-s-compact-3-axis-handheld-gimbal-stabilizer-for-mirrorless-DSLR-camera-lens-combos-with-tripod.jpg?v=1590655664","\/\/www.stream-sourcing.com\/cdn\/shop\/products\/zhiyun-weebill-s-compact-3-axis-handheld-gimbal-stabilizer-for-mirrorless-DSLR-camera-lens-combos-with-tripod-side.jpg?v=1590655664"],"featured_image":"\/\/www.stream-sourcing.com\/cdn\/shop\/products\/zhiyun-weebill-s-compact-3-axis-handheld-gimbal-stabilizer-for-mirrorless-DSLR-camera-lens-combos-overview-front.jpg?v=1590655664","options":["Title"],"media":[{"alt":"ZHIYUN Weebill-S Compact 3-Axis Handheld Gimbal Stabilizer for Mirrorless and DSLR Cameras \u0026 Lens Combos features overview without tripod side","id":7404947767371,"position":1,"preview_image":{"aspect_ratio":1.0,"height":1200,"width":1200,"src":"\/\/www.stream-sourcing.com\/cdn\/shop\/products\/zhiyun-weebill-s-compact-3-axis-handheld-gimbal-stabilizer-for-mirrorless-DSLR-camera-lens-combos-overview-front.jpg?v=1590655664"},"aspect_ratio":1.0,"height":1200,"media_type":"image","src":"\/\/www.stream-sourcing.com\/cdn\/shop\/products\/zhiyun-weebill-s-compact-3-axis-handheld-gimbal-stabilizer-for-mirrorless-DSLR-camera-lens-combos-overview-front.jpg?v=1590655664","width":1200},{"alt":"ZHIYUN Weebill-S Compact 3-Axis Handheld Gimbal Stabilizer for Mirrorless and DSLR Cameras \u0026 Lens Combos features overview without tripod left","id":7404947800139,"position":2,"preview_image":{"aspect_ratio":1.0,"height":1200,"width":1200,"src":"\/\/www.stream-sourcing.com\/cdn\/shop\/products\/zhiyun-weebill-s-compact-3-axis-handheld-gimbal-stabilizer-for-mirrorless-DSLR-camera-lens-combos-overview-right.jpg?v=1590655664"},"aspect_ratio":1.0,"height":1200,"media_type":"image","src":"\/\/www.stream-sourcing.com\/cdn\/shop\/products\/zhiyun-weebill-s-compact-3-axis-handheld-gimbal-stabilizer-for-mirrorless-DSLR-camera-lens-combos-overview-right.jpg?v=1590655664","width":1200},{"alt":"ZHIYUN Weebill-S Compact 3-Axis Handheld Gimbal Stabilizer for Mirrorless and DSLR Cameras \u0026 Lens Combos features overview mobile phone ","id":7404947832907,"position":3,"preview_image":{"aspect_ratio":1.0,"height":1200,"width":1200,"src":"\/\/www.stream-sourcing.com\/cdn\/shop\/products\/zhiyun-weebill-s-compact-3-axis-handheld-gimbal-stabilizer-for-mirrorless-DSLR-camera-lens-combos-overview-with-mobile-phone.jpg?v=1590655664"},"aspect_ratio":1.0,"height":1200,"media_type":"image","src":"\/\/www.stream-sourcing.com\/cdn\/shop\/products\/zhiyun-weebill-s-compact-3-axis-handheld-gimbal-stabilizer-for-mirrorless-DSLR-camera-lens-combos-overview-with-mobile-phone.jpg?v=1590655664","width":1200},{"alt":"ZHIYUN Weebill-S Compact 3-Axis Handheld Gimbal Stabilizer for Mirrorless and DSLR Cameras \u0026 Lens Combos features overview with tripod front","id":7404947865675,"position":4,"preview_image":{"aspect_ratio":1.0,"height":1200,"width":1200,"src":"\/\/www.stream-sourcing.com\/cdn\/shop\/products\/zhiyun-weebill-s-compact-3-axis-handheld-gimbal-stabilizer-for-mirrorless-DSLR-camera-lens-combos-front-with-tripod.jpg?v=1590655664"},"aspect_ratio":1.0,"height":1200,"media_type":"image","src":"\/\/www.stream-sourcing.com\/cdn\/shop\/products\/zhiyun-weebill-s-compact-3-axis-handheld-gimbal-stabilizer-for-mirrorless-DSLR-camera-lens-combos-front-with-tripod.jpg?v=1590655664","width":1200},{"alt":"ZHIYUN Weebill-S Compact 3-Axis Handheld Gimbal Stabilizer for Mirrorless and DSLR Cameras \u0026 Lens Combos features overview with tripod side","id":7404947898443,"position":5,"preview_image":{"aspect_ratio":1.0,"height":1200,"width":1200,"src":"\/\/www.stream-sourcing.com\/cdn\/shop\/products\/zhiyun-weebill-s-compact-3-axis-handheld-gimbal-stabilizer-for-mirrorless-DSLR-camera-lens-combos-with-tripod.jpg?v=1590655664"},"aspect_ratio":1.0,"height":1200,"media_type":"image","src":"\/\/www.stream-sourcing.com\/cdn\/shop\/products\/zhiyun-weebill-s-compact-3-axis-handheld-gimbal-stabilizer-for-mirrorless-DSLR-camera-lens-combos-with-tripod.jpg?v=1590655664","width":1200},{"alt":"ZHIYUN Weebill-S Compact 3-Axis Handheld Gimbal Stabilizer for Mirrorless and DSLR Cameras \u0026 Lens Combos features overview with tripod left","id":7404947931211,"position":6,"preview_image":{"aspect_ratio":1.0,"height":1200,"width":1200,"src":"\/\/www.stream-sourcing.com\/cdn\/shop\/products\/zhiyun-weebill-s-compact-3-axis-handheld-gimbal-stabilizer-for-mirrorless-DSLR-camera-lens-combos-with-tripod-side.jpg?v=1590655664"},"aspect_ratio":1.0,"height":1200,"media_type":"image","src":"\/\/www.stream-sourcing.com\/cdn\/shop\/products\/zhiyun-weebill-s-compact-3-axis-handheld-gimbal-stabilizer-for-mirrorless-DSLR-camera-lens-combos-with-tripod-side.jpg?v=1590655664","width":1200}],"requires_selling_plan":false,"selling_plan_groups":[],"content":"\u003ch1\u003eZHIYUN Weebill-S Compact 3-Axis Handheld Gimbal Stabilizer for Mirrorless and DSLR Cameras \u0026amp; Lens Combos.\u003c\/h1\u003e\u003cdiv class=\"desc\"\u003e\n\u003cp style=\"text-align: center;\"\u003e\u003cimg src=\"https:\/\/cdn.shopify.com\/s\/files\/1\/2532\/7020\/files\/zhiyun-weebill-s-compact-3-axis-handheld-gimbal-stabilizer-for-mirrorless-DSLR-camera-lens-combos-cover-photo-features.jpg?v=1590652164\" alt=\"ZHIYUN Weebill-S Compact 3-Axis Handheld Gimbal Stabilizer for Mirrorless and DSLR Cameras \u0026amp; Lens Combos features overview\"\u003e\u003c\/p\u003e\n\u003cp style=\"text-align: center;\"\u003e \u003c\/p\u003e\n\u003cdiv style=\"text-align: center;\"\u003e\u003cstrong\u003eWEEBILL-S easily handles mainstream mirrorless and DSLR camera \u0026amp; lens combos. Thanks to its neat lightweight body and a unique Sling mode, WEEBILL-S brings an effortless shooting experience like never before. Featuring an upgraded algorithm and stronger motors, an intelligent ViaTouch 2.0 system as well as an ultra-low latency HD image transmission module, WEEBILL-S pushes the limit of filmmaking even further. Unleash boundless possibilities with WEEBILL-S!\u003c\/strong\u003e\u003c\/div\u003e\n\u003cp\u003e \u003c\/p\u003e\n\u003ch2 style=\"text-align: center;\"\u003e\u003cspan style=\"text-decoration: underline;\"\u003e\u003cstrong\u003e\u003c\/strong\u003e\u003c\/span\u003e\u003c\/h2\u003e\n\u003ch2 style=\"text-align: center;\"\u003e\n\u003cspan style=\"text-decoration: underline;\"\u003e\u003cstrong\u003e\u003c\/strong\u003e\u003c\/span\u003eSupreme Power, Superior Compatibility\u003cbr\u003e\n\u003c\/h2\u003e\n\u003cp style=\"text-align: center;\"\u003eWEEBILL-S comes with new motor units and an upgraded high-precision algorithm. Combos like Sony A7Ⅲ+FE 24-70mm F2.8 and Canon 5D4+EF 24-70mm F2.8 can be perfectly balanced and stabilized on WEEBILL-S for smooth cinematic shots under different scenarios. Simply mount your camera onto WEEBILL-S and WEEBILL-S can auto-tune its power to best adapt to your devices. Be limitless with WEEBILL-S and enjoy creation full-heartedly.\u003c\/p\u003e\n\u003cdiv style=\"text-align: center;\"\u003e\u003cimg src=\"https:\/\/cdn.shopify.com\/s\/files\/1\/2532\/7020\/files\/zhiyun-weebill-s-compact-3-axis-handheld-gimbal-stabilizer-for-mirrorless-DSLR-camera-lens-combos-high-compatibility.jpg?v=1590652430\" alt=\"ZHIYUN Weebill-S Compact 3-Axis Handheld Gimbal Stabilizer for Mirrorless and DSLR Cameras \u0026amp; Lens Combos high compatibility\" style=\"float: none;\"\u003e\u003c\/div\u003e\n\u003cp style=\"text-align: center;\"\u003e \u003c\/p\u003e\n\u003ch2 style=\"text-align: center;\"\u003eResponsive and Flexible than EVER\u003cbr\u003e\n\u003c\/h2\u003e\n\u003cp style=\"text-align: center;\"\u003eThe upgraded 8th Instune algorithm provides high responsiveness and eliminates jittery in fast movement in any environment. Not only that, but you can also quickly adjust the speed and various parameters of each axis directly through the dial on the handle itself, giving you responsive and flexible control than ever!\u003cbr\u003e\u003c\/p\u003e\n\u003cp style=\"text-align: center;\"\u003e \u003c\/p\u003e\n\u003cp style=\"text-align: center;\"\u003e \u003c\/p\u003e\n\u003ch2 style=\"text-align: center;\"\u003eCompact as a Piece of A4 Paper\u003cbr\u003e\n\u003c\/h2\u003e\n\u003cp style=\"text-align: center;\"\u003eThe unique structure and minimum design of WEEBILL-S make it super compact as a piece of A4 paper. With the ergonomically designed Sling mode, WEEBILL-S provides an effortless shooting experience for anyone.\u003cbr\u003e\u003c\/p\u003e\n\u003cdiv style=\"text-align: center;\"\u003e\u003cimg src=\"https:\/\/cdn.shopify.com\/s\/files\/1\/2532\/7020\/files\/zhiyun-weebill-s-compact-3-axis-handheld-gimbal-stabilizer-for-mirrorless-DSLR-camera-lens-combos-compact.jpg?v=1590652590\" alt=\"ZHIYUN Weebill-S Compact 3-Axis Handheld Gimbal Stabilizer for Mirrorless and DSLR Cameras \u0026amp; Lens Combos compact design \" style=\"float: none;\"\u003e\u003c\/div\u003e\n\u003cp style=\"text-align: center;\"\u003e \u003c\/p\u003e\n\u003ch2 style=\"text-align: center;\"\u003eUpgraded Image Transmission Module:\u003cbr\u003e\n\u003c\/h2\u003e\n\u003cp style=\"text-align: center;\"\u003eThe all-new TransMount Image Transmission Module (accessory), in its compact size, can be directly mounted under the quick release plate neatly. With 1080P 30fps highly synchronised transmission (100-meter distance*) featuring LUT, Pseudocolor, Focus peaking, Zebra Stripes and etc, professional monitoring and live streaming can be easily achieved on a gimbal. (Because of the Wi-Fi frequency band differences in Japan and Israel, the image transmission performance and distance in these areas may be affected when using the smartphone as a monitor.)\u003cbr\u003e\u003c\/p\u003e\n\u003cdiv style=\"text-align: center;\"\u003e\u003cimg src=\"https:\/\/cdn.shopify.com\/s\/files\/1\/2532\/7020\/files\/zhiyun-weebill-s-compact-3-axis-handheld-gimbal-stabilizer-for-mirrorless-DSLR-camera-lens-combos-image-transmission.jpg?v=1590653455\" alt=\"ZHIYUN Weebill-S Compact 3-Axis Handheld Gimbal Stabilizer for Mirrorless and DSLR Cameras \u0026amp; Lens Combos transmission\" style=\"float: none;\"\u003e\u003c\/div\u003e\n\u003cdiv style=\"text-align: center;\"\u003e\u003cimg src=\"https:\/\/cdn.shopify.com\/s\/files\/1\/2532\/7020\/files\/zhiyun-weebill-s-compact-3-axis-handheld-gimbal-stabilizer-for-mirrorless-DSLR-camera-lens-combos-trans-mount-image-transmission.jpg?v=1590653497\" alt=\"ZHIYUN Weebill-S Compact 3-Axis Handheld Gimbal Stabilizer for Mirrorless and DSLR Cameras \u0026amp; Lens Combos transmission feature details\" style=\"float: none;\"\u003e\u003c\/div\u003e\n\u003ch2 style=\"text-align: center;\"\u003e\u003c\/h2\u003e\n\u003ch2 style=\"text-align: center;\"\u003eViaTouch 2.0: Your Finger-Touch Vision World\u003cbr\u003e\n\u003c\/h2\u003e\n\u003cp style=\"text-align: center;\"\u003e\u003cspan style=\"text-decoration: underline;\"\u003eViatouch: you can turn your phone screen into a professional monitor and multi-functional remote controller.\u003c\/span\u003e\u003cbr\u003e\u003c\/p\u003e\n\u003cp style=\"text-align: center;\"\u003e \u003c\/p\u003e\n\u003ch3 style=\"text-align: center;\"\u003e\u003cstrong\u003e\u003cspan style=\"text-decoration: underline;\"\u003eViaTouch 2.0 Evolved Intelligence\u003cbr\u003e\u003c\/span\u003e\u003c\/strong\u003e\u003c\/h3\u003e\n\u003cp style=\"text-align: center;\"\u003eBesides HD image transmitting, ViaTouch 2.0 seamlessly connects your smartphone, camera and gimbal. Various gimbal and camera settings can be adjusted in real-time, like Follow Speed, Aperture, ISO, Shutter Speed and etc. Real-time monitoring and intuitive control are just at fingertips.\u003c\/p\u003e\n\u003cp style=\"text-align: center;\"\u003e\u003cstrong\u003e*Requires TransMount Image Trans\u003c\/strong\u003e\u003c\/p\u003e\n\u003cdiv style=\"text-align: center;\"\u003e\u003cimg src=\"https:\/\/cdn.shopify.com\/s\/files\/1\/2532\/7020\/files\/zhiyun-weebill-s-compact-3-axis-handheld-gimbal-stabilizer-for-mirrorless-DSLR-camera-lens-combos-connect-with-phone-monitor.jpg?v=1590653561\" alt=\"ZHIYUN Weebill-S Compact 3-Axis Handheld Gimbal Stabilizer for Mirrorless and DSLR Cameras \u0026amp; Lens Combos viatouch 2.0 connect with mobile phone camera and gimbal\" style=\"float: none;\"\u003e\u003c\/div\u003e\n\u003cp style=\"text-align: center;\"\u003e \u003c\/p\u003e\n\u003ch3 style=\"text-align: center;\"\u003e\u003cstrong\u003e\u003cspan style=\"text-decoration: underline;\"\u003eSmartFollow 2.0\u003cbr\u003e\u003c\/span\u003e\u003c\/strong\u003e\u003c\/h3\u003e\n\u003cp style=\"text-align: center;\"\u003eSmartFollow 2.0 now allows precise object tracking with no need of balancing your phone onto a camera or gimbal. Simply box the wanted object via phone screen and let the gimbal and camera do the rest. SmartFollow 2.0 empowers you to work with super flexibility either you work alone or in a team.\u003c\/p\u003e\n\u003cp style=\"text-align: center;\"\u003e\u003cbr\u003e\u003cstrong\u003e*Requires TransMount Image Transmission Module.\u003c\/strong\u003e\u003c\/p\u003e\n\u003cdiv style=\"text-align: center;\"\u003e\u003cimg src=\"https:\/\/cdn.shopify.com\/s\/files\/1\/2532\/7020\/files\/zhiyun-weebill-s-compact-3-axis-handheld-gimbal-stabilizer-for-mirrorless-DSLR-camera-lens-combos-smart-follow.jpg?v=1590653592\" alt=\"ZHIYUN Weebill-S Compact 3-Axis Handheld Gimbal Stabilizer for Mirrorless and DSLR Cameras \u0026amp; Lens Combos smart follow \" style=\"float: none;\"\u003e\u003c\/div\u003e\n\u003cp style=\"text-align: center;\"\u003e \u003c\/p\u003e\n\u003ch3 style=\"text-align: center;\"\u003e\n\u003cspan style=\"text-decoration: underline;\"\u003eSync Motion\u003c\/span\u003e\u003cbr\u003e\n\u003c\/h3\u003e\n\u003cp style=\"text-align: center;\"\u003eWEEBILL-S introduces Sync Motion, a motion sensor control system based on APP. When coupled with image transmission module, it allows real-time monitoring and synchronous motion control at the same time, giving you an immersive FPV control experience like never before.\u003c\/p\u003e\n\u003cp style=\"text-align: center;\"\u003e\u003cstrong\u003e*Monitoring function requires TransMount Image Transmission Module.\u003c\/strong\u003e\u003c\/p\u003e\n\u003cdiv style=\"text-align: center;\"\u003e\u003cimg src=\"https:\/\/cdn.shopify.com\/s\/files\/1\/2532\/7020\/files\/zhiyun-weebill-s-compact-3-axis-handheld-gimbal-stabilizer-for-mirrorless-DSLR-camera-lens-combos-sync-motion-with-three-devices.jpg?v=1590653653\" alt=\"ZHIYUN Weebill-S Compact 3-Axis Handheld Gimbal Stabilizer for Mirrorless and DSLR Cameras \u0026amp; Lens Combos sync motion \" style=\"float: none;\"\u003e\u003c\/div\u003e\n\u003cp style=\"text-align: center;\"\u003e \u003c\/p\u003e\n\u003ch2 class=\"total sumTotal8\" style=\"text-align: center;\"\u003eModular Design\u003c\/h2\u003e\n\u003cdiv style=\"text-align: center;\"\u003eWith a full set of TransMount Image Transmission System (Transmitter+Receiver), WEEBILL-S provides professional monitor solutions for every filmmaker or even a camera crew, achieving highly consistent teamwork and effective workflow at ease.\u003c\/div\u003e\n\u003cp\u003e \u003c\/p\u003e\n\u003ch3 style=\"text-align: center;\"\u003e\u003cspan style=\"text-decoration: underline;\"\u003eTransMount Image Transmission Receiver\u003c\/span\u003e\u003c\/h3\u003e\n\u003cp style=\"text-align: center;\"\u003eWhen mounted with image transmission receiver and transmitter, up to 3 devices can be connected to your stabilizer, including not only smartphones and iPad, but also professional monitors. From now on, a professional camera crew is on your hands.\u003c\/p\u003e\n\u003cp style=\"text-align: center;\"\u003e\u003cstrong\u003e*Accessory sold separately.\u003c\/strong\u003e\u003c\/p\u003e\n\u003cdiv style=\"text-align: center;\"\u003e\u003cimg src=\"https:\/\/cdn.shopify.com\/s\/files\/1\/2532\/7020\/files\/zhiyun-weebill-s-compact-3-axis-handheld-gimbal-stabilizer-for-mirrorless-DSLR-camera-lens-combos-image-transmission-receiver.jpg?v=1590653690\" alt=\"ZHIYUN Weebill-S Compact 3-Axis Handheld Gimbal Stabilizer for Mirrorless and DSLR Cameras \u0026amp; Lens Combos image transmission receiver\" style=\"float: none;\"\u003e\u003c\/div\u003e\n\u003cp style=\"text-align: center;\"\u003e \u003c\/p\u003e\n\u003ch3 style=\"text-align: center;\"\u003e\u003cspan style=\"text-decoration: underline;\"\u003eTransMount Wireless Remote Controller\u003c\/span\u003e\u003c\/h3\u003e\n\u003cp style=\"text-align: center;\"\u003eThe all-new remote controller featuring a built-in motion sensor module allows ultra-high-precision motion-sensing control and parameter settings in real-time.\u003c\/p\u003e\n\u003cp style=\"text-align: center;\"\u003e\u003cstrong\u003e*Accessory sold separately. The controller cannot work independently. It works only with WEEBILL-S and TransMount Image Transmission Module (Transmitter and Receiver)\u003c\/strong\u003e\u003c\/p\u003e\n\u003cdiv style=\"text-align: center;\"\u003e\u003cimg src=\"https:\/\/cdn.shopify.com\/s\/files\/1\/2532\/7020\/files\/zhiyun-weebill-s-compact-3-axis-handheld-gimbal-stabilizer-for-mirrorless-DSLR-camera-lens-combos-wireless-remote-controller-motion-sensor.jpg?v=1590653734\" alt=\"ZHIYUN Weebill-S Compact 3-Axis Handheld Gimbal Stabilizer for Mirrorless and DSLR Cameras \u0026amp; Lens Combos wireless remote controller \" style=\"float: none;\"\u003e\u003c\/div\u003e\n\u003cp style=\"text-align: center;\"\u003e \u003c\/p\u003e\n\u003ch2 style=\"text-align: center;\"\u003eLiveStream Anywhere\u003cbr\u003e\n\u003c\/h2\u003e\n\u003cp style=\"text-align: center;\"\u003eSupporting image transmission connection on three devices at a time, whether with your smartphones, tablets or general monitors, TransMount Image Transmission Package offers a cost-saving and flexible solution for live streaming anytime anywhere.\u003cbr\u003e\u003c\/p\u003e\n\u003cdiv style=\"text-align: center;\"\u003e\u003cimg src=\"https:\/\/cdn.shopify.com\/s\/files\/1\/2532\/7020\/files\/zhiyun-weebill-s-compact-3-axis-handheld-gimbal-stabilizer-for-mirrorless-DSLR-camera-lens-combos-livestream-anywhere.jpg?v=1590653748\" alt=\"ZHIYUN Weebill-S Compact 3-Axis Handheld Gimbal Stabilizer for Mirrorless and DSLR Cameras \u0026amp; Lens Combos live stream anywhere\" style=\"float: none;\"\u003e\u003c\/div\u003e\n\u003cp style=\"text-align: center;\"\u003e \u003c\/p\u003e\n\u003ch2 style=\"text-align: center;\"\u003eInstant Gimbal Settings\u003c\/h2\u003e\n\u003cp style=\"text-align: center;\"\u003eThe all-inclusive intuitive OLED display can show various adjustable parameters like motor strength, follow speed, smoothness, deadband, key customization and etc, all of which can be directly controlled via the handle without having to enter the App.\u003cbr\u003e\u003c\/p\u003e\n\u003cdiv style=\"text-align: center;\"\u003e\u003cimg src=\"https:\/\/cdn.shopify.com\/s\/files\/1\/2532\/7020\/files\/zhiyun-weebill-s-compact-3-axis-handheld-gimbal-stabilizer-for-mirrorless-DSLR-camera-lens-combos-instant-gimbal-settings.jpg?v=1590653778\" alt=\"ZHIYUN Weebill-S Compact 3-Axis Handheld Gimbal Stabilizer for Mirrorless and DSLR Cameras \u0026amp; Lens Combos instant gimbal settings\" style=\"float: none;\"\u003e\u003c\/div\u003e\n\u003cp style=\"text-align: center;\"\u003e \u003c\/p\u003e\n\u003ch2 style=\"text-align: center;\"\u003eMore Ways to Create\u003cbr\u003e\n\u003c\/h2\u003e\n\u003cp style=\"text-align: center;\"\u003eWith six creative shooting modes, WEEBILL-S provides endless possibilities for your shooting.\u003cbr\u003e\u003c\/p\u003e\n\u003cdiv style=\"text-align: center;\"\u003e\u003cimg src=\"https:\/\/cdn.shopify.com\/s\/files\/1\/2532\/7020\/files\/zhiyun-weebill-s-compact-3-axis-handheld-gimbal-stabilizer-for-mirrorless-DSLR-camera-lens-combos-creative-shooting-modes.jpg?v=1590653948\" alt=\"ZHIYUN Weebill-S Compact 3-Axis Handheld Gimbal Stabilizer for Mirrorless and DSLR Cameras \u0026amp; Lens Combos various shootings models\" style=\"float: none;\"\u003e\u003c\/div\u003e\n\u003cp style=\"text-align: center;\"\u003e \u003c\/p\u003e\n\u003ch2 style=\"text-align: center;\"\u003eTwo-in-One Quick Release System\u003c\/h2\u003e\n\u003cp style=\"text-align: center;\"\u003eWEEBILL-S adopts the popular two-in-one quick release plates (Manfrotto\/Arca-Swiss), allowing easy setup and fast transition between equipment without re-balancing.\u003cbr\u003e\u003c\/p\u003e\n\u003cdiv style=\"text-align: center;\"\u003e\u003cimg src=\"https:\/\/cdn.shopify.com\/s\/files\/1\/2532\/7020\/files\/zhiyun-weebill-s-compact-3-axis-handheld-gimbal-stabilizer-for-mirrorless-DSLR-camera-lens-combos-quick-release.jpg?v=1590653987\" alt=\"ZHIYUN Weebill-S Compact 3-Axis Handheld Gimbal Stabilizer for Mirrorless and DSLR Cameras \u0026amp; Lens Combos quick release system\" style=\"float: none;\"\u003e\u003c\/div\u003e\n\u003cp style=\"text-align: center;\"\u003e \u003c\/p\u003e\n\u003ch2 style=\"text-align: center;\"\u003eNew Axis Lock Design, Easy Setup\u003c\/h2\u003e\n\u003cp style=\"text-align: center;\"\u003eNewly-designed lock switch on each axis makes balancing and storage much easier and convenient.\u003cbr\u003e\u003c\/p\u003e\n\u003cdiv style=\"text-align: center;\"\u003e\u003cimg src=\"https:\/\/cdn.shopify.com\/s\/files\/1\/2532\/7020\/files\/zhiyun-weebill-s-compact-3-axis-handheld-gimbal-stabilizer-for-mirrorless-DSLR-camera-lens-combos-set-up-easy.jpg?v=1590654008\" alt=\"ZHIYUN Weebill-S Compact 3-Axis Handheld Gimbal Stabilizer for Mirrorless and DSLR Cameras \u0026amp; Lens Combos axis lock design \" style=\"float: none;\"\u003e\u003c\/div\u003e\n\u003cp style=\"text-align: center;\"\u003e \u003c\/p\u003e\n\u003ch2 style=\"text-align: center;\"\u003eStay Focused, All the Way\u003c\/h2\u003e\n\u003cp style=\"text-align: center;\"\u003eWEEBILL-S supports both electronic focus control and mechanical focus\/zoom control through a handy control wheel on its body. Whatever camera \u0026amp; lens combo you're using, you can always pull focus or zoom precisely via the included cable and a servo motor.\u003c\/p\u003e\n\u003cp style=\"text-align: center;\"\u003e(The control wheel controls the servo focus\/zoom motor by default. For electronic focus control, please dial into the Menu to select. For more information, please refer to the User Guide.)\u003c\/p\u003e\n\u003cdiv style=\"text-align: center;\"\u003e\u003cimg src=\"https:\/\/cdn.shopify.com\/s\/files\/1\/2532\/7020\/files\/zhiyun-weebill-s-compact-3-axis-handheld-gimbal-stabilizer-for-mirrorless-DSLR-camera-lens-combos-always-on-focus.jpg?v=1590654037\" alt=\"ZHIYUN Weebill-S Compact 3-Axis Handheld Gimbal Stabilizer for Mirrorless and DSLR Cameras \u0026amp; Lens Combos always on focus \" style=\"float: none;\"\u003e\u003c\/div\u003e\n\u003cp style=\"text-align: center;\"\u003e \u003c\/p\u003e\n\u003ch2 style=\"text-align: center;\"\u003ePower Your Shoot All Day\u003cbr\u003e\n\u003c\/h2\u003e\n\u003cp style=\"text-align: center;\"\u003eThe interchangeable batteries with 14-hour runtime will keep you powered up all day long. WEEBILL-S can also keep your camera charged in real-time, ensuring a reliable and effective shooting for long-time task.\u003c\/p\u003e\n\u003cdiv style=\"text-align: center;\"\u003e\u003cimg src=\"https:\/\/cdn.shopify.com\/s\/files\/1\/2532\/7020\/files\/zhiyun-weebill-s-compact-3-axis-handheld-gimbal-stabilizer-for-mirrorless-DSLR-camera-lens-combos-large-battery-capacity_525833f8-ad1d-4089-a1c5-9f679414e801.jpg?v=1590654236\" alt=\"ZHIYUN Weebill-S Compact 3-Axis Handheld Gimbal Stabilizer for Mirrorless and DSLR Cameras \u0026amp; Lens Combos power your shoot all day \" style=\"float: none;\"\u003e\u003c\/div\u003e\n\u003cp style=\"text-align: center;\"\u003e \u003c\/p\u003e\n\u003ch2 style=\"text-align: center;\"\u003ePlay like a Pro\u003cbr\u003e\n\u003c\/h2\u003e\n\u003cp style=\"text-align: center;\"\u003eMore advanced cinematic features such as Panorama, Timelapse, Motionlapse, and Long Exposure Timelapse can be easily achieved within ZY Play.\u003cbr\u003e\u003c\/p\u003e\n\u003cdiv style=\"text-align: center;\"\u003e\u003cimg src=\"https:\/\/cdn.shopify.com\/s\/files\/1\/2532\/7020\/files\/zhiyun-weebill-s-compact-3-axis-handheld-gimbal-stabilizer-for-mirrorless-DSLR-camera-lens-combos-cinematic_features.jpg?v=1590654348\" alt=\"ZHIYUN Weebill-S Compact 3-Axis Handheld Gimbal Stabilizer for Mirrorless and DSLR Cameras \u0026amp; Lens Combos cinematic features\" style=\"float: none;\"\u003e\u003c\/div\u003e\n\u003cp style=\"text-align: center;\"\u003e \u003c\/p\u003e\n\u003ch2 style=\"text-align: center;\"\u003eEcosystem of Accessories\u003cbr\u003e\n\u003c\/h2\u003e\n\u003cp style=\"text-align: center;\"\u003eWith three 1\/4 inch thread holes, WEEBILL-S offers great compatibility to multiple accessories such as TransMount quick setup kits, monopod, servo zoom\/focus motors, image transmission system, and more. Explore unlimited possibilities with WEEBILL-S!\u003c\/p\u003e\n\u003cp style=\"text-align: center;\"\u003e \u003c\/p\u003e\n\u003cdiv style=\"text-align: center;\"\u003e\u003cimg src=\"https:\/\/cdn.shopify.com\/s\/files\/1\/2532\/7020\/files\/zhiyun-weebill-s-compact-3-axis-handheld-gimbal-stabilizer-for-mirrorless-DSLR-camera-lens-combos-application.jpg?v=1590654394\" alt=\"ZHIYUN Weebill-S Compact 3-Axis Handheld Gimbal Stabilizer for Mirrorless and DSLR Cameras \u0026amp; Lens Combos accessories \" style=\"float: none;\"\u003e\u003c\/div\u003e\n\u003ch2 style=\"text-align: center;\"\u003e\u003cspan style=\"text-decoration: underline;\"\u003e\u003c\/span\u003e\u003c\/h2\u003e\n\u003ch2\u003e    \u003c\/h2\u003e\n\u003ch2\u003eSpecifications:\u003c\/h2\u003e\n\u003cp\u003e \u003c\/p\u003e\n\u003cp\u003e\u003cspan style=\"text-decoration: underline;\"\u003e\u003cstrong\u003eBattery:\u003c\/strong\u003e\u003c\/span\u003e\u003cbr\u003e\u003c\/p\u003e\n\u003cp\u003eOperation Voltage: Max: 8.4v, Min: 6.8v\u003c\/p\u003e\n\u003cp\u003eOperation Current: Max: 3000mA, Min: 250mA\u003c\/p\u003e\n\u003cp\u003eOutput: 5V, 1A\u003c\/p\u003e\n\u003cp\u003eBattery Runtime: Max: 14h, Min: 12h\u003c\/p\u003e\n\u003cp\u003eCharging Time: Standard: 2.5h\u003c\/p\u003e\n\u003cp\u003e \u003c\/p\u003e\n\u003cp\u003e\u003cspan style=\"text-decoration: underline;\"\u003e\u003cstrong\u003eStabilizer:\u003c\/strong\u003e\u003c\/span\u003e\u003c\/p\u003e\n\u003cp\u003eFollowing Deviation in Static State: Max: ± 0.04°, Min: ± 0.01°\u003c\/p\u003e\n\u003cp\u003eFollowing Deviation in Motion State:  Max: ± 0.3°, Standard: ± 0.1°, Min: ± 0.05°\u003c\/p\u003e\n\u003cp\u003eTilt Mechanical Range: 314°\u003c\/p\u003e\n\u003cp\u003eRoll Mechanical Range: 314°\u003c\/p\u003e\n\u003cp\u003ePan Mechanical Range: 360°\u003c\/p\u003e\n\u003cp\u003e \u003c\/p\u003e\n\u003cp\u003e\u003cspan style=\"text-decoration: underline;\"\u003e\u003cstrong\u003ePacking Specifications:\u003c\/strong\u003e\u003c\/span\u003e\u003c\/p\u003e\n\u003cp\u003eProduct Dimension (W*D*H): 190*140*298mm\u003c\/p\u003e\n\u003cp\u003ePackage Size (L*W*H): 355*275*104mm\u003c\/p\u003e\n\u003cp\u003eCarton Size (Dedicated) (L*W*H): 574*380*316mm\u003c\/p\u003e\n\u003cp\u003eNet Weight: ~895g\/unit\u003c\/p\u003e\n\u003cp\u003eGross Weight (including package): 1785g\/unit\u003c\/p\u003e\n\u003cp\u003ePacking Weight: 10kg\/carton\u003c\/p\u003e\n\u003c\/div\u003e"}
Translation missing: zh-TW.products.product.regular_price
$329.99
Translation missing: zh-TW.products.product.regular_price
$329.99
ZHIYUN Weebill-S Compact 3-Axis Handheld Gimbal Stabilizer for Mirrorless and DSLR Cameras & Lens Combos.
WEEBILL-S easily handles mainstream mirrorless and DSLR camera & lens combos. Thanks to its neat lightweight body and a unique Sling mode, WEEBILL-S brings an effortless shooting experience like never before. Featuring an upgraded algorithm and stronger motors, an intelligent ViaTouch 2.0 system as well as an ultra-low latency HD image transmission module, WEEBILL-S pushes the limit of filmmaking even further. Unleash boundless possibilities with WEEBILL-S!
Supreme Power, Superior Compatibility


WEEBILL-S comes with new motor units and an upgraded high-precision algorithm. Combos like Sony A7Ⅲ+FE 24-70mm F2.8 and Canon 5D4+EF 24-70mm F2.8 can be perfectly balanced and stabilized on WEEBILL-S for smooth cinematic shots under different scenarios. Simply mount your camera onto WEEBILL-S and WEEBILL-S can auto-tune its power to best adapt to your devices. Be limitless with WEEBILL-S and enjoy creation full-heartedly.
Responsive and Flexible than EVER

The upgraded 8th Instune algorithm provides high responsiveness and eliminates jittery in fast movement in any environment. Not only that, but you can also quickly adjust the speed and various parameters of each axis directly through the dial on the handle itself, giving you responsive and flexible control than ever!

Compact as a Piece of A4 Paper

The unique structure and minimum design of WEEBILL-S make it super compact as a piece of A4 paper. With the ergonomically designed Sling mode, WEEBILL-S provides an effortless shooting experience for anyone.

Upgraded Image Transmission Module:

The all-new TransMount Image Transmission Module (accessory), in its compact size, can be directly mounted under the quick release plate neatly. With 1080P 30fps highly synchronised transmission (100-meter distance*) featuring LUT, Pseudocolor, Focus peaking, Zebra Stripes and etc, professional monitoring and live streaming can be easily achieved on a gimbal. (Because of the Wi-Fi frequency band differences in Japan and Israel, the image transmission performance and distance in these areas may be affected when using the smartphone as a monitor.)

ViaTouch 2.0: Your Finger-Touch Vision World

Viatouch: you can turn your phone screen into a professional monitor and multi-functional remote controller.

ViaTouch 2.0 Evolved Intelligence

Besides HD image transmitting, ViaTouch 2.0 seamlessly connects your smartphone, camera and gimbal. Various gimbal and camera settings can be adjusted in real-time, like Follow Speed, Aperture, ISO, Shutter Speed and etc. Real-time monitoring and intuitive control are just at fingertips.
*Requires TransMount Image Trans
SmartFollow 2.0

SmartFollow 2.0 now allows precise object tracking with no need of balancing your phone onto a camera or gimbal. Simply box the wanted object via phone screen and let the gimbal and camera do the rest. SmartFollow 2.0 empowers you to work with super flexibility either you work alone or in a team.

*Requires TransMount Image Transmission Module.
Sync Motion
WEEBILL-S introduces Sync Motion, a motion sensor control system based on APP. When coupled with image transmission module, it allows real-time monitoring and synchronous motion control at the same time, giving you an immersive FPV control experience like never before.
*Monitoring function requires TransMount Image Transmission Module.
Modular Design
With a full set of TransMount Image Transmission System (Transmitter+Receiver), WEEBILL-S provides professional monitor solutions for every filmmaker or even a camera crew, achieving highly consistent teamwork and effective workflow at ease.
TransMount Image Transmission Receiver
When mounted with image transmission receiver and transmitter, up to 3 devices can be connected to your stabilizer, including not only smartphones and iPad, but also professional monitors. From now on, a professional camera crew is on your hands.
*Accessory sold separately.
TransMount Wireless Remote Controller
The all-new remote controller featuring a built-in motion sensor module allows ultra-high-precision motion-sensing control and parameter settings in real-time.
*Accessory sold separately. The controller cannot work independently. It works only with WEEBILL-S and TransMount Image Transmission Module (Transmitter and Receiver)
LiveStream Anywhere

Supporting image transmission connection on three devices at a time, whether with your smartphones, tablets or general monitors, TransMount Image Transmission Package offers a cost-saving and flexible solution for live streaming anytime anywhere.

Instant Gimbal Settings
The all-inclusive intuitive OLED display can show various adjustable parameters like motor strength, follow speed, smoothness, deadband, key customization and etc, all of which can be directly controlled via the handle without having to enter the App.

More Ways to Create

With six creative shooting modes, WEEBILL-S provides endless possibilities for your shooting.

Two-in-One Quick Release System
WEEBILL-S adopts the popular two-in-one quick release plates (Manfrotto/Arca-Swiss), allowing easy setup and fast transition between equipment without re-balancing.

New Axis Lock Design, Easy Setup
Newly-designed lock switch on each axis makes balancing and storage much easier and convenient.

Stay Focused, All the Way
WEEBILL-S supports both electronic focus control and mechanical focus/zoom control through a handy control wheel on its body. Whatever camera & lens combo you're using, you can always pull focus or zoom precisely via the included cable and a servo motor.
(The control wheel controls the servo focus/zoom motor by default. For electronic focus control, please dial into the Menu to select. For more information, please refer to the User Guide.)
Power Your Shoot All Day

The interchangeable batteries with 14-hour runtime will keep you powered up all day long. WEEBILL-S can also keep your camera charged in real-time, ensuring a reliable and effective shooting for long-time task.
Play like a Pro

More advanced cinematic features such as Panorama, Timelapse, Motionlapse, and Long Exposure Timelapse can be easily achieved within ZY Play.

Ecosystem of Accessories

With three 1/4 inch thread holes, WEEBILL-S offers great compatibility to multiple accessories such as TransMount quick setup kits, monopod, servo zoom/focus motors, image transmission system, and more. Explore unlimited possibilities with WEEBILL-S!
Specifications:
Battery:

Operation Voltage: Max: 8.4v, Min: 6.8v
Operation Current: Max: 3000mA, Min: 250mA
Output: 5V, 1A
Battery Runtime: Max: 14h, Min: 12h
Charging Time: Standard: 2.5h
Stabilizer:
Following Deviation in Static State: Max: ± 0.04°, Min: ± 0.01°
Following Deviation in Motion State:  Max: ± 0.3°, Standard: ± 0.1°, Min: ± 0.05°
Tilt Mechanical Range: 314°
Roll Mechanical Range: 314°
Pan Mechanical Range: 360°
Packing Specifications:
Product Dimension (W*D*H): 190*140*298mm
Package Size (L*W*H): 355*275*104mm
Carton Size (Dedicated) (L*W*H): 574*380*316mm
Net Weight: ~895g/unit
Gross Weight (including package): 1785g/unit
Packing Weight: 10kg/carton